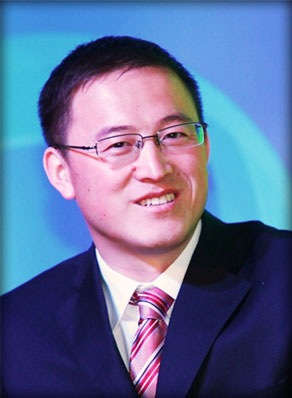 D.cn CEO Harry Xiao
Our Story
Founder and CEO, Harry Xiao is originally from the northwestern part of China, Gansu, far off in the northwest region where resources are scarce with a below average college graduates. At the age of 15, in junior high school, he rode the tricycle from the small village to the big town 10km afar to sell the vegetables from family farm. He saved the earnings to pay for his tuitions.
He made his way to the central south of China to Changsha, capital of Hunan, and earned his B.S. in Materials Science and Engineering from Hunan University.While in college, he founded an internet startup, which started the first wave of student entrepreneurs in Hunan.
His entrepreneurial streak groomed him from a young college student entrepreneur to being the visionary CEO of a 300 employee company as leader in the web mobile game market, attracting top-tier VC firms in China.
When he first started Downjoy in 2004, he borrowed less than 20,000 RMB from friends, to rent a small apartment in the outskirt of Beijing.
In the beginning, Downjoy was just a BBS site for mobile users, it was not public. One day, when Harry was on the metro, he saw a young girl playing game on Nokia 3300. This model was the predecessor of Nokia Ngage, a designated mobile phone for games. While chatting with the girl, she mentions that a friend in her online game circleFei-tian. Fei-tianwas a game enthusiast, whose account was blocked by a web site, which had caused a uproar from a number of his supporters and followers. When Fei-tian went visit Harry's little workshop, and saw the website that was not publicized yet, he proposed to have Downjoy "adopt" him and his alliance of followers. After pondering on it for a day, Harry took the step to take them in as the early adopters. As a result, Downjoy immediately became the "hang-out" place for the hard-core players and it went viral in short time.
This unexpected early success makes Downjoy take into its DNA by always valuing user's experience and feelings as top priority.
A number of these early adopters had later become employed by Downjoy, from many different fields, such as factory assembly worker, accountant, or even college students. And many of them even advanced their career to the management level. To them, Downjoy has helped materialized their dreams.
Witnessing the users' actions in the community forum, where they keenly expressed their love, hate, sentiment and depression and connected to others in the community to share that kind of emotions, Downjoy has become part of players' life.
With that and his root in founding the company from scratch, Harry Xiao has a particular passion in helping other entrepreneurs inachieving their dreams. He has advised and fundedto a number of very early stage startups. He invested primarily in people and in their ideas, not just in games, but also in innovative ideas of other applications. Even though some of his investment had failed, he continues to believe in the entrepreneurial spirit.